Nintendo Classic Mini: Nintendo Entertainment System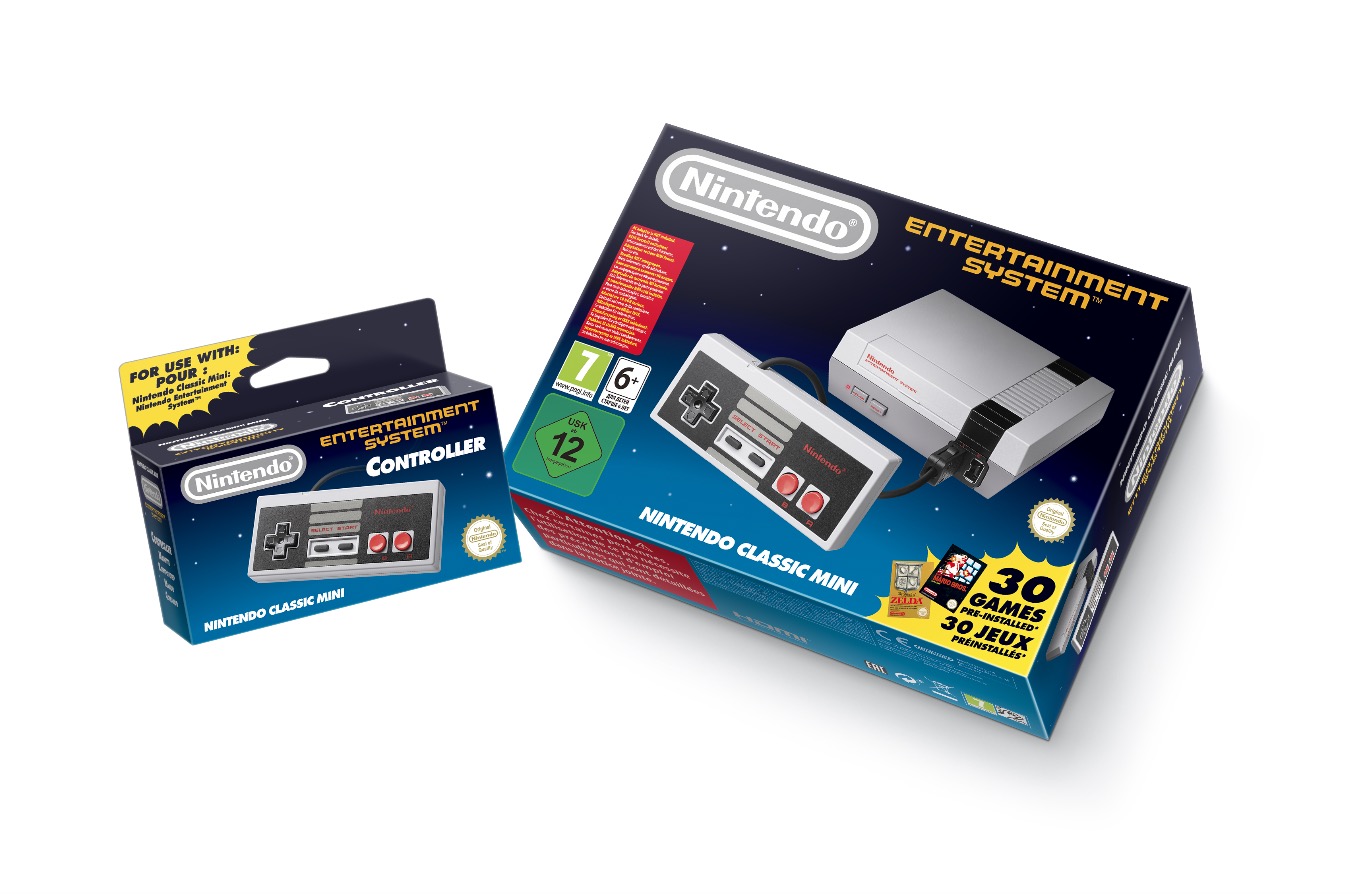 Am 11.11.2016 erscheint ein Mini-NES mit 30 eingebauten Spielen, mit dem etwas sperrigen Namen Nintendo Classic Mini: Nintendo Entertainment System.

Das Besondere an der Hardware ist dass das MiniNES einen HDMI Ausgang besitzt und die Joypads Wii und WiiU kompatibel sind. Zudem wird der Stromzugang über einen Mini-USB Eingang gewährleistet – ein Netzteil muss allerdings, wenn nicht bereits durch Tablets oder ähnliches zigfach daheim vorhanden, separat erworben werden.
Folgende 30 Games sind fest verbaut in das Gerät:
Balloon Fight
BUBBLE BOBBLE
Castlevania™
Castlevania II: Simon's Quest™
Donkey Kong
Donkey Kong Jr.
DOUBLE DRAGON II: THE REVENGE
Dr. Mario
Excitebike
FINAL FANTASY®
Galaga™
GHOSTS'N GOBLINS™
GRADIUS™
Ice Climber
Kid Icarus
Kirby's Adventure
Mario Bros.
MEGA MAN™ 2
Metroid
NINJA GAIDEN®
PAC-MAN™
Punch-Out!! Featuring Mr. Dream
StarTropics
SUPER C™
Super Mario Bros.
Super Mario Bros. 2
Super Mario Bros. 3
Tecmo Bowl™
The Legend of Zelda
Zelda II: The Adventure of Link
In den USA soll das Gerät für 60US% und zusätzliche Pads – eines ist beim System inkludiert – für jeweils nur 10US$ verkauft werden, jeweils zzgl. MwSt. versteht sich. Ein Euro-Preis ist bisher leider nicht bekannt, aktuell gehen wird aber von etwa 70 Euro für das Gerät und ca. 15 Euro für die Pads aus.
Genau Details zu den Games gibt es auf der offiziellen Mini-NES Mini-Site zu dem Re-Release